home - bio - statement - art galleries: dreams - goddesses - nature - inner - on paper - composites - by date - A-Z

Snake Pod Tree

Dreamed 1989/3/16; painted 1995, oil on plywood, 24 x 20", by Jenny Badger Sultan

I am in the desert with Kathy and a few others. We walk into a clump of plants and observe the life in them--flowers, insects, etc. A little distance away I see a tree with roundish leaves and dark pods, kind of oval. Reminds me of the trees that used to grow on Bonnie Toxby's street in Altadena. Kathy and I go over to check it out.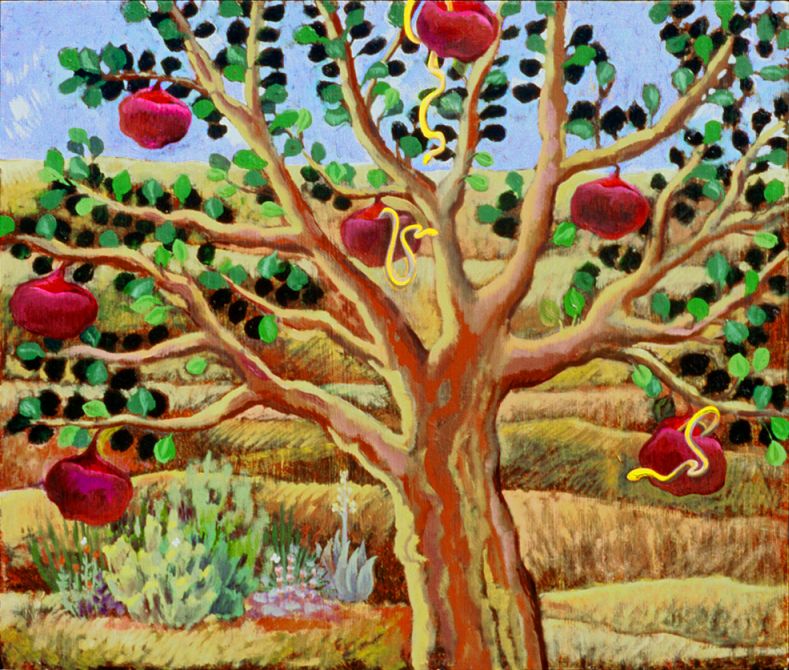 Instead of being hard as I'd thought, the pods are soft, like suede. They are a reddish, purplish, brownish color and larger than I'd thought--4 to 5 inches across. They have two sides which are connected partially so they're like purses or rounded envelopes. I look inside a couple--nothing is in there.

Kathy says, "What should be inside?" I know that it is a nesting place for a snake--but somehow neither of the ones I open has its snake inside. But if I go on opening them, I expect to find a snake.

home - bio - statement - art galleries: dreams - goddesses - nature - inner - on paper - composites - by date - A-Z