home - bio - statement - art galleries: dreams - goddesses - nature - inner - on paper - composites - by date - A-Z

Personal Excavations

2005, acrylic on canvas, 40 x 49.5", by Jenny Badger Sultan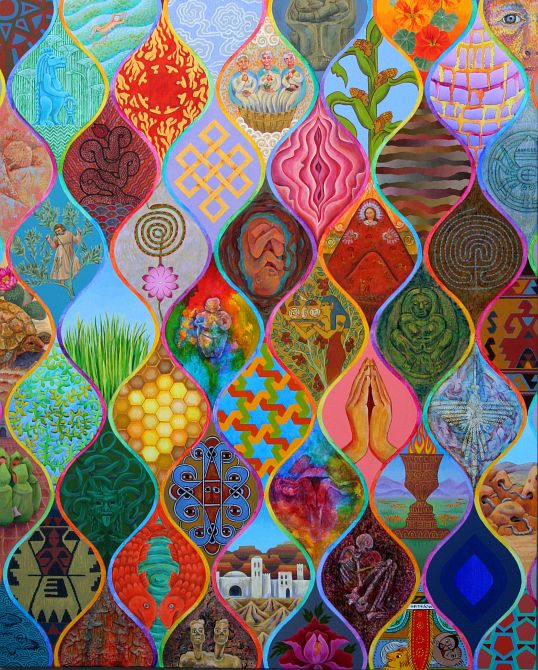 I was wanting to work again with the ogee grid (see In Iraq). First I laid in the grid pattern and colored the outlining bands with transparent rainbow colors.
Then I chose random areas and painted some of them with flat grays of different values to get a movement of light and dark around the canvas. I picked one ogee shape at a time and painted in it whatever came to mind.
At first, it seemed that most of the images were female, such as
the pink labia/vulva forms (a tribute to Judy Chicago)
the baby in utero
the Virgin of the Andes (the red mountain with the madonna's face and hands--a reference to Pachamama, the earth mother of the Incas), and
the three women in a tub.
The last is an image I had been wanting to paint for a long time. It's a tribute to three women who were very important in my life, along with their attributes--
Susana Guevara Mueller, my Chilean art teacher, holding a paintbrush and a stone
My mother, Virginia Badger, with a succulent and a trowel
Betty Hayward, a dear friend, with a weaving shuttle and a book.

It's based on santos paintings I'd seen in New Mexico many years ago showing the Trinity as three men in a tub.

My choices expanded and I included personal dream images (such as the Pod of Children), some abstract patterns, and symbols and images that I love from cultures around the world.

For example, the corn people come from an Aztec or Maya drawing that I'd found in a book on corn.





home - bio - statement - art galleries: dreams - goddesses - nature - inner - on paper - composites - by date - A-Z