home - bio - statement - art galleries: dreams - goddesses - nature - inner - on paper - composites - 3D - by date - A-Z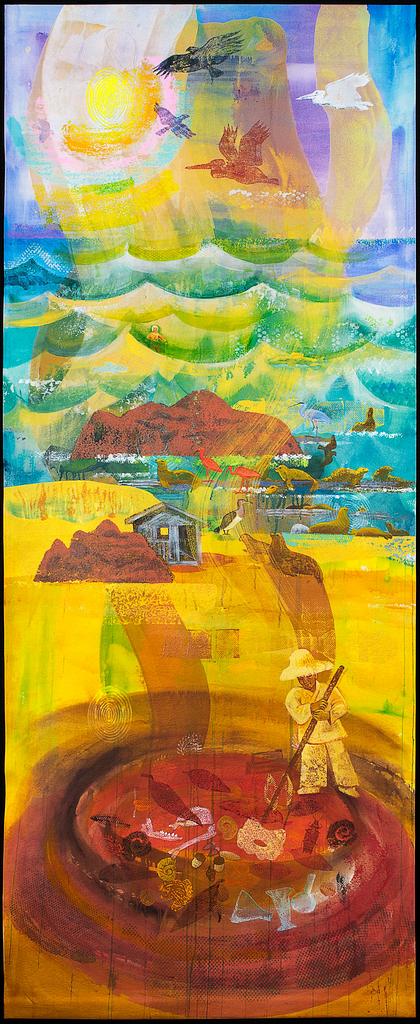 The Ocean Teeming with Life
and
The Earth-Cooking Pit
2018, 35 x 87", acrylic on unstretched canvas, by Jenny Badger Sultan

This painting is a combination of two dreams:
The Ocean Teeming with Life
September 5, 2017
I've been staying with family in a cabin--evidently by the beach. People are packing up, getting ready to leave. I have to wait for my daughter Naomi to get back with the car before I can leave. Margaret and Tony are all packed up. I say to Margaret, "Are you leaving?" She says yes and indicates I could leave too, but I tell her I have to wait for Naomi. Margaret goes out the door, but she's back right away, looking annoyed. I wonder if she's forgotten something. She goes to where she's left a wad of money and grabs it and leaves.
I have wondered if I should swim one last time and then figure that I should, because I can just put my wet bathing suit in our gray fridge for the trip home.
I go out to the ocean. I both see this and describe it later to a man I know will be very interested: There's an incline at the beach, with a series of rocky shelves. Many, many seals and their pups are climbing up onto these rocky shelves and then slithering back down to the water. There are also many, many birds--some are very large sea birds. Some of the birds are rare and exotic. An African crane for example--I forget the others. It's very exciting--a place that's teeming with life. Some young boys come out and go down into the water to join the activity.
The Earth Cooking Pit
January 11, 2017
I am telling our tenant that in our backyard we are going to have a pit for cooking earth. It will be a huge area which we will be turning and stirring, with dirt and other ingredients. She seems interested and for it. I ask her and a small group if they know how I found out about doing this--which is an old ethnic practice (from Central Asia?)
They are interested to know. I say that I (or someone I know) was walking around a neighborhood and spotted a man dressed in rustic clothing. I followed him and came to a backyard which had one of these earth-cooking pits. The man told me (or the person) that this was an ancient practice and how to make one.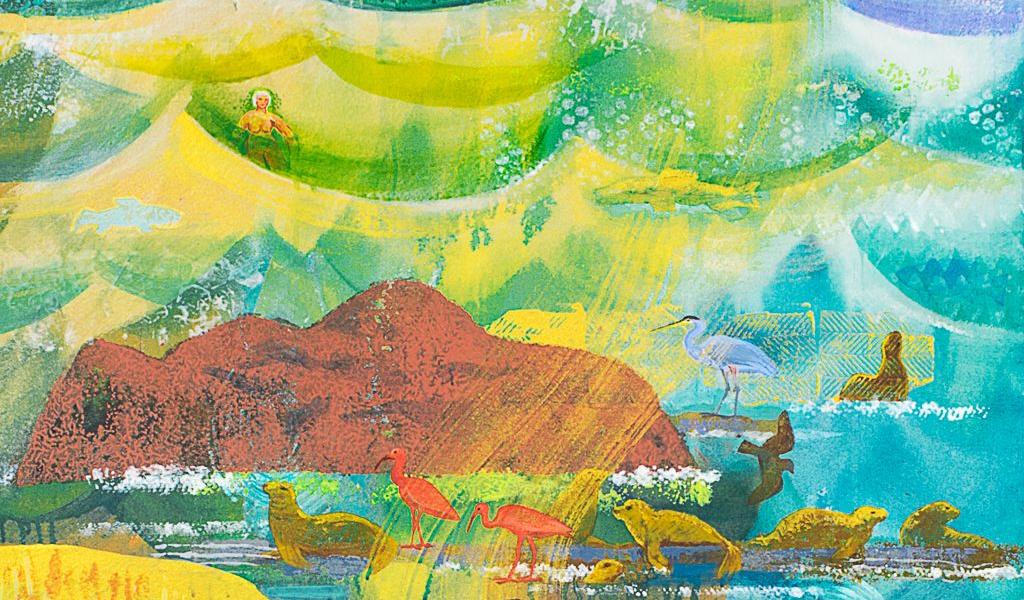 home - bio - statement - art galleries: dreams - goddesses - nature - inner - on paper - composites - 3D - by date - A-Z